When you have banking questions, we have answers.
Nassau Financial Federal Credit Union's ABA number is 2214-7668-8.
The ABA number is also called a routing number or routing transit number. You can find it in the lower left-hand corner of your checks: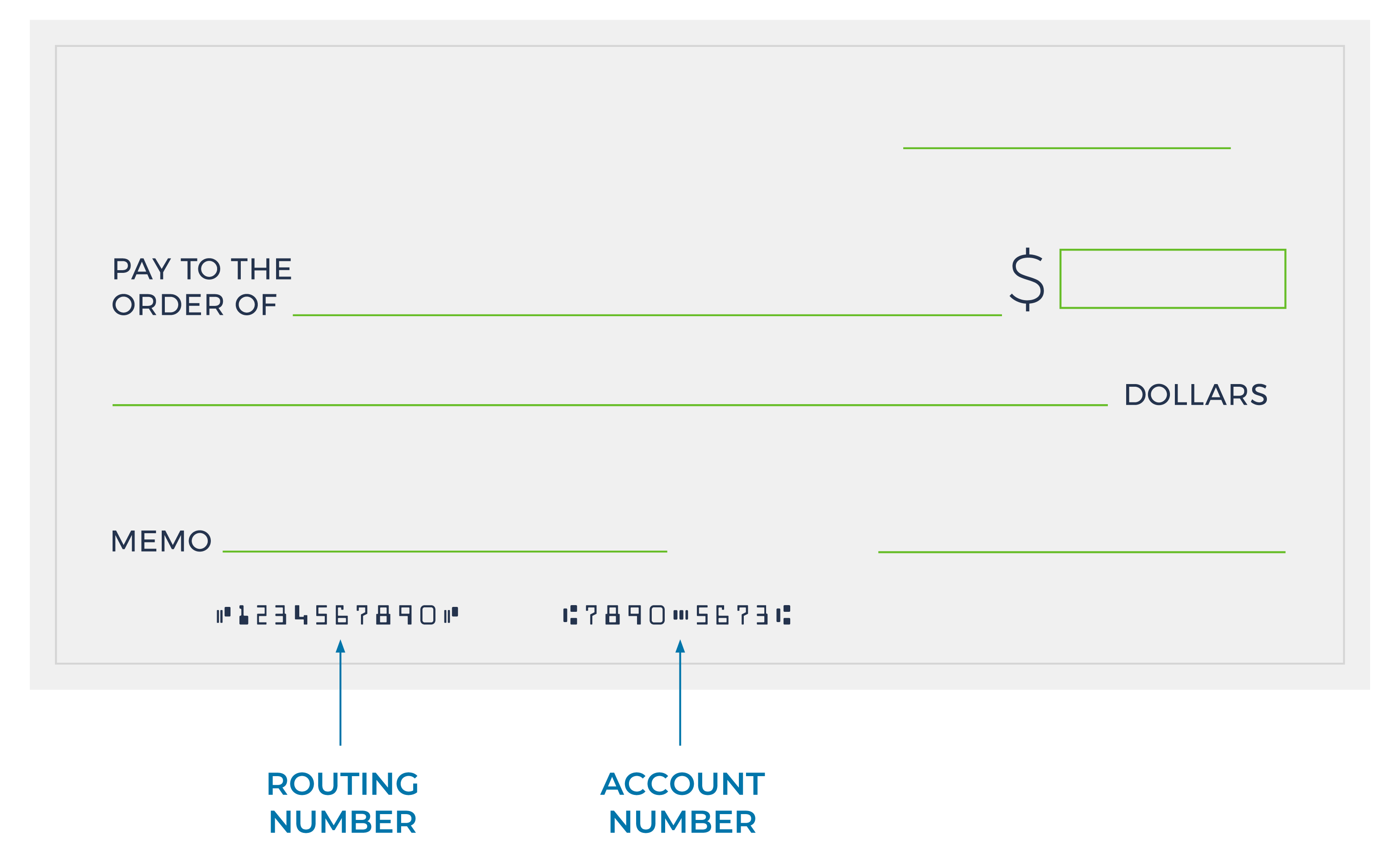 Financial institutions use routing numbers in order to send and receive money from other banks for credit unions. Routing numbers are essential in a lot of transactions that Nassau Financial Federal Credit Union provides like Direct Deposit.


Need a more convenient way to make payments?
Online Banking lets you pay your bills, securely deposit checks, and transfer money between accounts, all from the comfort of your own home. Sign up today for Online Banking!
What are the current certificate of deposit (CD) rates?
To see our most current CD (Certificate Account) rates, please go to our rates page and click on the "Certificates" tab. You can also access rates for Savings Accounts, Credit Cards, and more from this page.
Ready to open a Certificate Account?
A Certificate Account can be opened as a regular or IRA Certificate and makes it possible for a saver with at least $1,000 to earn high dividends.
Can I deposit a check through Mobile Banking?
Can anyone join the credit union?
Yes, as long as you meet the requirements to become a Member you can join. 
Nassau Financial Federal Credit Union serves all those who live, work, worship, attend school or volunteer in Nassau County, New York, as well as Members of their immediate family or household.
Where are the Shared Network Locations and what are their hours?
What is the fee for a cashier's check?
Teller Checks, also known as Cashier's Checks, do have a fee. Please view our most recent fee schedule. Fees for Teller Checks are located in the "Sevice Center/Branch Outlet Fees" section.
Stop by one of our branches to purchase a Teller Check.
Looking to avoid fees?
Online Banking is the fastest, cheapest, and most secure way to transfer funds to non-Nassau Financial accounts. With Online Banking, you'll never need to worry about conventional checks getting lost in the mail. 
How do I sign up for Nassau Financial Online Banking?
To sign up for Online Banking, navigate to our Nassau Financial Online Banking Portal.
Make sure you know your account number and have your current mobile number and email address on file with us.
With Nassau Financial's online banking you can:
Get account balances
Look at six months of detailed account transaction history, including check images
Sign up for Bill Pay
and more!
Looking to take online banking on the go?
Download the Nassau Financial mobile app in just minutes on the App Store or via Google Play to get started, then follow the prompts to get set up.
What are the current rates and fees?
In the event a transaction is declined, you may contact our Fraud Prevention Department to verify attempted purchases from your account at 1-800-328-2155.