Credit Cards
Enjoy a world of convenience and rewards by choosing a Nassau Financial Visa credit card.
Need help choosing your credit card?
Life on Long Island can be expensive, having a Nassau Financial VISA credit card combines convenience with a low rate of interest. It's the perfect card to build your credit and to consolidate other credit card debt.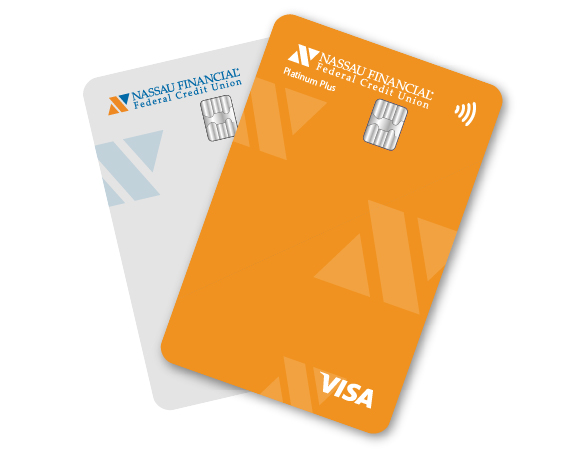 Visa® Platinum Card
Best for everyday purchases
0%APR* for 12 months, then variable. 3% Balance Transfer fee applies.2 
1.75%APR* introductory rate for purchases fixed for the first 12 months.1


Visa® Platinum Plus Card
Best for rewards
Everything included with Platinum Card 
Cashback
Travel rewards
And much more
Learn More About all our Credit Card Offers
The Visa Platinum Card offers the following features:
Credit line from $500 up to $40,000

No annual fees

$510 available daily at ATMs, and $1,500 for cash advances through a teller
Visa® Platinum Plus Card
There are many advantages to having a Nassau Financial credit union credit card. For example, the Visa Platinum Plus Card offers everything the Visa Platinum Card offers, plus:
Cashback

Travel and Gift rewards
Whether you're looking to repair, build or establish credit, a Nassau Financial Secured Credit Card may be the best option for you. here's why:
Embedded EMV chip

Mobile Wallet Compatible

Use anywhere VISA Credit Cards are accepted

Visit a

 

branch

 

or call us at 516.742.4900 to apply.
Managing your Credit Card is easy! With a few simple steps, you can view balances, statements and make payments from your dashboard. Simply log in to Online Banking, navigate to "support" and select "Manage My Credit Card".
*APR = Annual Percentage Rate. Minimum line of credit $500; maximum line of credit $40,000. 1) Get 1.75% APR fixed for the first 12 months, then the prevailing VISA Platinum Plus rate, which is variable and based on the Wall Street Journal Prime Rate plus a margin, based on creditworthiness, on the last business day of the month with a cap of 17.9%. Existing or previous Visa Platinum and Visa Platinum Plus Cardholders are not eligible for this offer. 2) Get 0% APR on all balance transfers for the first 12 months, then the prevailing VISA Platinum Plus rate. A 3% fee applies to all balance transfers. Minimum balance transfer is $1,000. All loan applications underwritten based on credit worthiness and other criteria. Nassau Financial's cumulative unsecured loan &/or line of credit limit maximum is $40,000. Promotional rate offers subject to change without notice.