Payment acceptance, invoicing, and more with Autobooks!
Manage your small business finances, accounting, bookkeeping, bill pay and more all within Online Banking.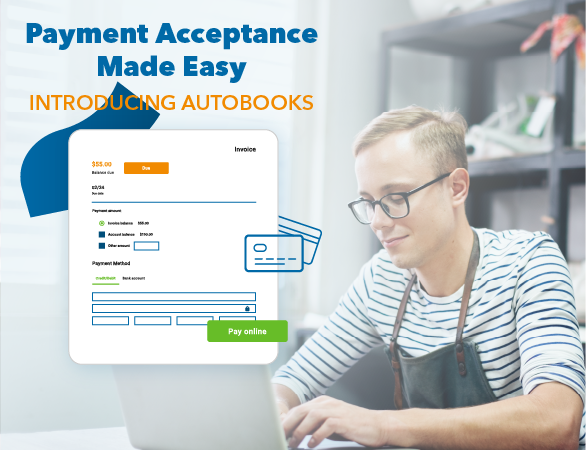 Send Invoices
S
end a professional invoice or estimate right from Online & Mobile Banking. Invoices are paid online via card or ACH.

 Accept Payment
You are provided with a unique link to your own secure payment form. Links can be sent via text or email, or even pasted into a web page.

 Get Paid
Reduce or eliminate reliance on external apps or software.
R
eceive payments directly into your checking account!
Empower your business with the right tools
All from one app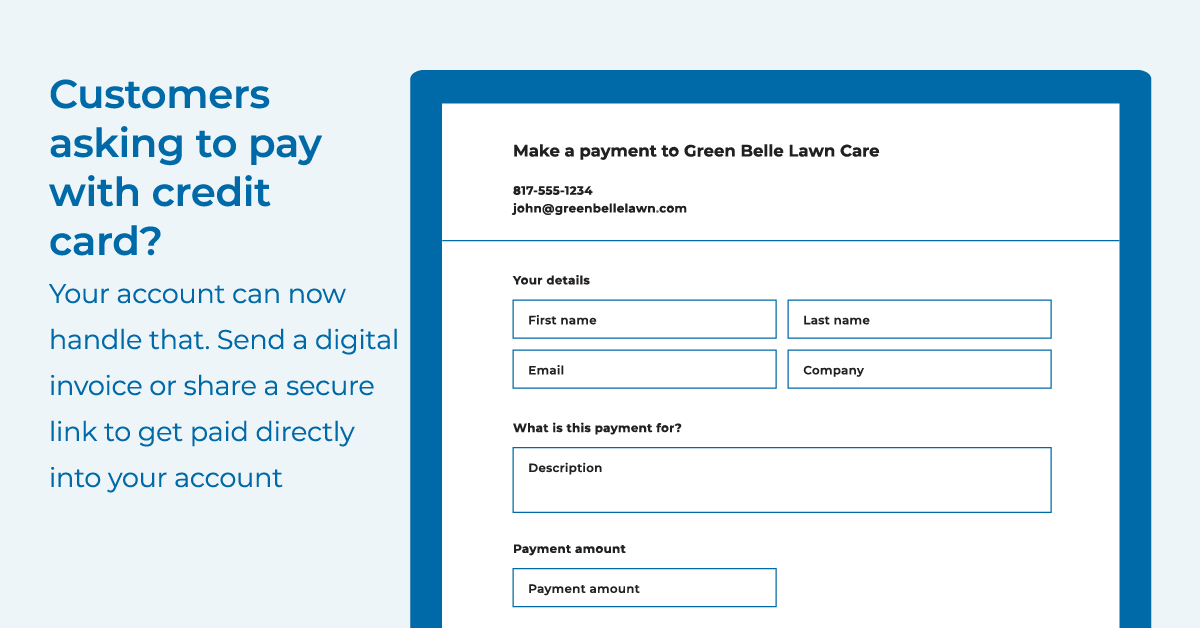 With your Payment Form, you'll be able to:

✔ Share your link - on invoices, via text message, email, your website and more

✔ Get paid directly into online banking - no lockup period with a third-party app

✔ Give your customer the option to pay with credit card, debit card, or electronic bank transfers

✔ Customize your payment form with a professional look. Add your business logo and colors

✔ Setup recurring payments so you have the reassurance of consistent cash flow every month

Send invoices and receive payments right from your Online Banking Dashboard!
Q. What is Autobooks?
A. Autobooks is a tool for small business Members that allows you to send invoices, accept payments, and
keep track of customers all from Online Banking.
Q. How much does it cost me?
A. Autobooks is absolutely free. This is a standard feature that has been added to your Online Banking account.
Q. Can anyone use Autobooks?
A. Any Member with a Nassau Financial Checking Account can use Autobooks.
Q. Is there a payment processing fee?
A. The payment processing fees are 2.89% for credit/debit card transactions and 1% for ACH transactions. If a user upgrades to the full Autobooks Reporting/Accounting, there is a $9.99 per month fee, after a 60-day free trial period.
Q. How do I sign up to try it?
A: You can enroll inside of Online Banking or alternatively you can book a meeting with Autobooks on
the Autobooks informational page. You can also contact the Autobooks team at
Support@autobooks.co
.
Q. Can I get help getting started?
A: Absolutely! The Autobooks team is here to help. You can:
Book a free one on one session using the booking tool within the Autobooks information page
Contact the Autobooks team at Support@autobooks.co
Call between 9am and 6pm Eastern time at 866.617.3122
Q. Is Autobooks working with Nassau Financial? Is this safe?
A: Yes! Autobooks has partnered with Nassau Financial to bring business customers the best
invoicing and accounting platform available on the market. Autobooks exceeds industry standard
security to protect customer information.
Q. Do I have to download any software to use Autobooks?
A: No downloads of any kind are required. Autobooks lives completely inside of Online Banking.
Q: Does Autobooks replace QuickBooks?
A: Yes, it can. Autobooks is a simple way to keep your business accounting organized. We're built for
business owners, not accountants, and we'd be more than happy to help you import your QuickBooks
data so you can see the difference for yourself…and no, we do not charge extra for this service.
That said, some businesses choose to add Autobooks on top of their existing systems, and simply utilize
Autobooks for its invoicing and payments functionality.
Q. Where can I learn more?
A: You can visit the
Autobooks information page
for more information or to book time with an
Autobooks Specialist.
Alternatively, feel free to email the Autobooks team any time at
Support@autobooks.co
or call between 9am and 6pm Eastern time at 866.617.3122.
Q: Can I receive oversees funds into my account?
A: Autobooks will only receive transactions from within the United States. Oversees funds will not be accepted.

How to Enroll in Autobooks

Enrolling in Autobooks is easy and should only take a few minutes of your time. Remember, this service is free to use for Checking Account Members, and is included within Online Banking.

Step 1: Login to Online Banking via your smartphone, tablet or computer. Once logged in, look for the "Accept Online Payments" tile on your Dashboard. Depending on how you organize your Dashboard, this tile may be located at the bottom of the page.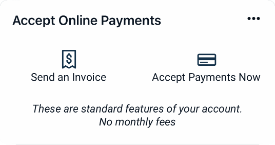 Step 2: Select "Accept Payments Now" to proceed. Read and accept the Terms and Conditions, and if prompted, select which Checking Account you would like to use. Note: this only applies to Members that have more than one Checking Account.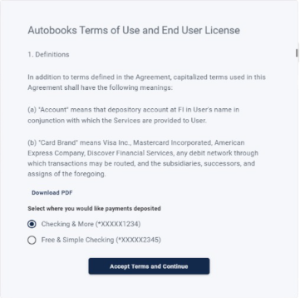 Step 3: Once you have accepted the Terms and Conditions, Autobooks will take you through a quick tutorial. You may choose to create an invoice, or access your payment form to edit.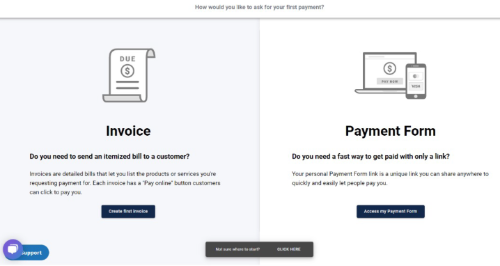 Step 4: Upon completion of the short tutorial, Autobooks will ask for any data or information that may be missing, if any. Confirm your name, phone number, date of birth, SSN and home/business address is correct.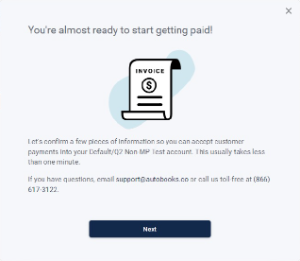 Step 5: A confirmation will be displayed once all your information is verified and correct. Please note that you will get a separate email confirmation in 1-2 business days once your account is ready to accept credit card and ACH payments.