Fill up with rewards!
Save 10¢ per gallon with BaZing Fuel benefits. Just sign up, swipe and start saving every time you fill up your tank. Watch your BaZing Fuel savings grow right from the BaZing App.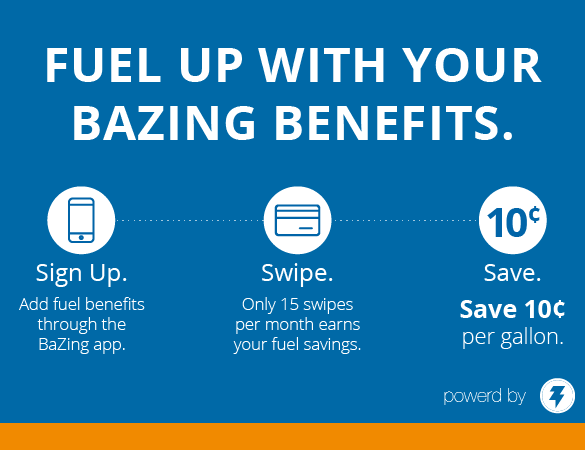 Add Fuel benefits through the BaZing app.   

    Only 15 swipes per month earns you fuel savings.

    Save 10¢ per gallon at participating Shell stations.
You'll receive a one-time activation reward of $0.10 per gallon when you activate BaZing Fuel. You'll earn a monthly reward of $0.10 per gallon each month when you have 15 eligible debit card transactions post and settle during the Monthly Qualification Cycle (MQC), which is defined as the first day of the month through the last day of the month. Only transactions posted during the MQC will count towards the monthly reward for that MQC. The following activities do not count toward earning BaZing Fuel: ATM withdrawals, transfers between accounts, deposit or refund transactions. Transactions posted during the MQC greater than the monthly reward requirement will be stored to count towards a bonus reward of $0.10 per gallon. When you have 50 stored bonus transactions you will earn the bonus reward. You will continue to earn bonus rewards for every 50 stored bonus transactions accrued. If the required monthly reward transaction count is not met during the MQC, no transactions are counted for any reward during that MQC or the bonus reward. BaZing Fuel is limited to 20 gallons of fuel per purchase, per vehicle, or fraud limits placed by Shell and/or limits placed on your payment card by your financial institution, each of which may be lower. To activate, you will need to have online banking with your financial institution. Refer to the BaZing Fuel Terms and Conditions for full disclosures. BaZing Fuel offer may be changed at any time and without notice.